Controls
Clone Hero allows you to customize controls to your liking through the control mapper on the main menu.
Control Remapping
The process for rebinding controls should be relatively self-explanatory: click the slot for the control you want to map, hit Replace, then follow the instructions it gives you.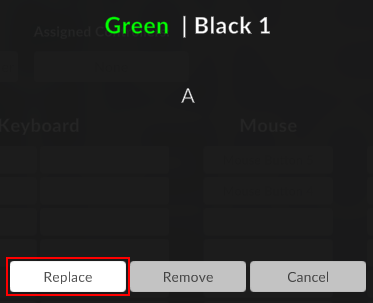 Calibration
Some controllers may also need axis calibration. Click on the Calibrate button in the control mapper to calibrate axis inputs, such as analog sticks, tilt, or whammy.

All available axes will be listed on the left, click on one to view it.
A view of the current input from the axis, as well as its calibration settings, is shown in the top-right. The gray arrow on the bottom is the raw input, and the white arrow at the top is the input after calibration. The red vertical line is the raw input's zero (resting) point, and the red box below it is the deadzone.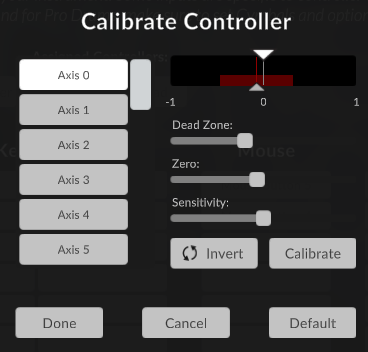 Mapping Guitars
The tables below describe how to map 5- and 6-fret guitars.
5-Fret Guitars
6-Fret Guitars
Xbox 360 6-fret guitars will have their tilt and whammy swapped compared to 5-fret guitars, so be sure to re-configure the mappings for those to be correct.
Mapping Drums
The tables below describe how to map Rock Band and Guitar Hero drumkits.
Rock Band Kits
If you're using Lefty Flip, the Green Cymbal mapping will act as the red cymbal in-game.
If you have cymbals, ensure that the Drum Pad Modifier, Drum Cymbal Modifier, and CymExt1/2 mappings at the bottom of the control mapper get set automatically after mapping the pads and cymbals.
Guitar Hero Kits
If you're using Lefty Flip, map the cymbals like this instead:
The Green Cymbal mapping will act as the red cymbal in-game with it enabled.
MIDI E-Kits (and other MIDI devices)
MIDI devices are supported for playing drums, however they are not configured in the standard control mapper. Instead, you must first sign in to a profile using a keyboard or another controller, then you open your profile settings and go to MIDI Settings (make sure your profile's Controller option is set to Drums, or else this won't be available).
Mapping Gamepads
These are some recommended mappings for using a gamepad controller to play:
| | | | |
| --- | --- | --- | --- |
| Mapping | Xbox | PlayStation | Nintendo |
| Green | LT | L2 | ZL |
| Red | LB | L1 | L |
| Yellow | RB | R1 | R |
| Blue | RT | R2 | ZR |
| Orange | A | X | B |
| Open Button | X | Δ | Y |
Be sure to enable the Gamepad Mode setting in your profile when playing with a gamepad.
Default Keyboard Controls
Supported Controllers
Most Xbox 360/One and HID devices are supported. Xbox controllers get default mappings, although these mappings are meant for guitars and will need tweaking for other devices. Other devices will need their controls mapped manually.
To keep things simple due to the ever-changing landscape of controller support, specifics are not provided here, as they may become outdated. Instead, refer to this spreadsheet, or ask in the Clone Hero discord server.